Field Tarps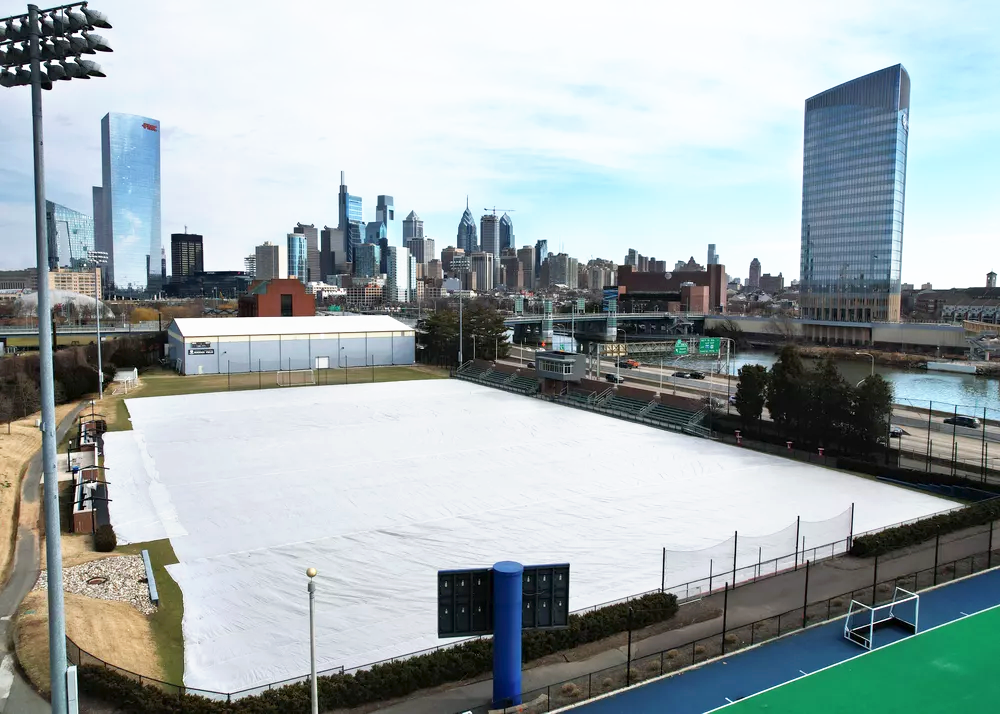 The Importance Of Field Tarps
Field tarps and covers are crucial for any organization looking for maximum protection against elements and foot traffic. There are plenty of options to choose from to cover any size or type of field. Rain covers, turf blankets, infield tarps, track protectors, and football sideline covers all have advantages for the best protection on any material. Having the protection needed will give the players the best surface to play on while offering a long-lasting investment in the turf.
Rain Tarps
Rain tarps come in different materials and sizes depending on where they'll be used. They come in Separate Pieces for baseball or softball fields. This type of turf protector only covers the bases and pitcher's mound. This is a great option for little league fields when only certain areas are of more concern to stay dry. They come in various colors so that they can match any team or school colors. Weighted Spot Covers is another great option that only requires 2 or 3 people to set up. They keep areas dry, and the weight on the perimeter means no sandbags or stakes are required. Rain covers also come in a full size to cover regulation baseball or softball infields. This option covers the entire infield and offers the best protection from rain or snow. Pull handles and grommets are attached to the tarp for ease of use. Heavy-duty polyethylene is waterproof and rot-resistant. Baseball Turf Covers offer protection for the dirt areas of the infield. These are easier to manage since they are made in sections. They use the same durable and waterproof material as the full-size rain covers.
There are also all-weather tarps for tennis courts. They are lightweight and durable. Their quick installation allows for easy on or off to prepare for practices or matches. There are pre-installed grommets every 3'. Stadium Rain Covers keep the field game-ready for football and soccer fields. The waterproof construction provides the best synthetic turf protection. The stadium turf cover is available in sizes over 5,000 square feet and is available in 2 different colors; silver/white or silver/black. The white and silver colors reflect the heat and sun while the black absorbs the heat.
Winter Turf Blankets
Turf blankets for the wintertime help keep the grass growing so it is ready for spring. The turf blanket shields the grass from wind, snow, frost, and ice. It also prevents unwanted foot and animal traffic. The turf protector allows light to pass through and warm the soil and air temperature. It lets in 90% light with 100% woven polypropylene. Brass grommets are placed every 5' for easy installation. There is a night and day difference between the turf that has been covered and has not. Many golf course managers and athletic department directors use these turf blankets on golf greens and soccer fields.
Batting Practice Field Covers
Batting Practice Field Covers offer protection from cleats and constant ball pressure during warm-ups or practice. They cover the home plate area and the beginning of the baselines. With IncrediSeal, all sewing and stitching have been eliminated, which means there is zero possibility of thread breaks or open seams. This batting practice turf protection comes in many colors to match any team or school's colors.
Having the right turf protection for any sports field is a must. It provides the best look while offering the players the maximum performance needed. Please contact a knowledgeable sales representative if you have any questions or would like to place an order.
Contact Us