Portable Fencing for Baseball and Softball Fields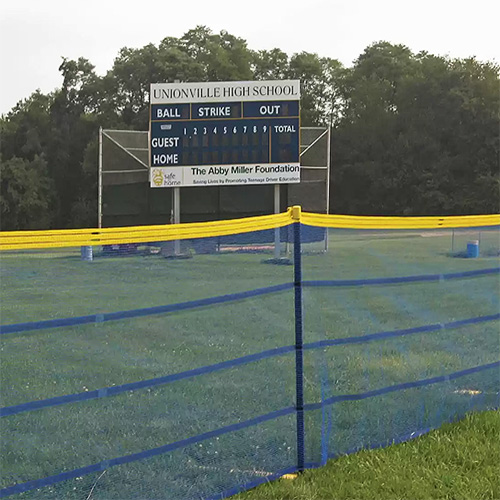 Our Grand Slam Temporary Fence series is designed to allow you to create the perfect field on the go. This portable, easy-to-install fence is ideal whether you need a baseball, softball, or little league field. Made from sturdy yet lightweight polyethylene, this mesh creates the perfect barrier when installed and is great for simple, compact storage in the off-season.
What Does The Grand Slam Fence Offer For Portable Fencing
The Grand Slam Fence series is offered for in-ground and above-ground installation styles to accommodate all our customers' needs. It is available in green, red, and blue mesh, and all fabrics include a yellow-lined top to provide a safety marker to prevent people from running into it.
This lightweight fence is a cost-effective way to elevate your outdoor sports season. Create a sports field in minutes wherever you need it, be it gravel, asphalt, grass, or turf. Tailor the installation to meet your specific needs. Most rolls include poles that create a standard outdoor fence, but more poles can be purchased separately to create a more structured barrier.
---
Other accessories that can be purchased are fencing pole caps, socket caps, and earth augers, allowing for a seamless installation process for every sports season.
Contact Us